Fly Fishing Christmas Island
by Jackson Streit
Christmas Island is one of the more special places in the world to fly fish – or for that matter, just to be. It is the largest saltwater atoll in the world and an angler's paradise. It is located about 3 hours south of Hawaii and you can only get there via the one round trip flight that runs per week. When I first stepped off the plane in Christmas Island, sometime in the late 1980's with my good friend Bill Fitzsimmons, it felt like Christmas Day.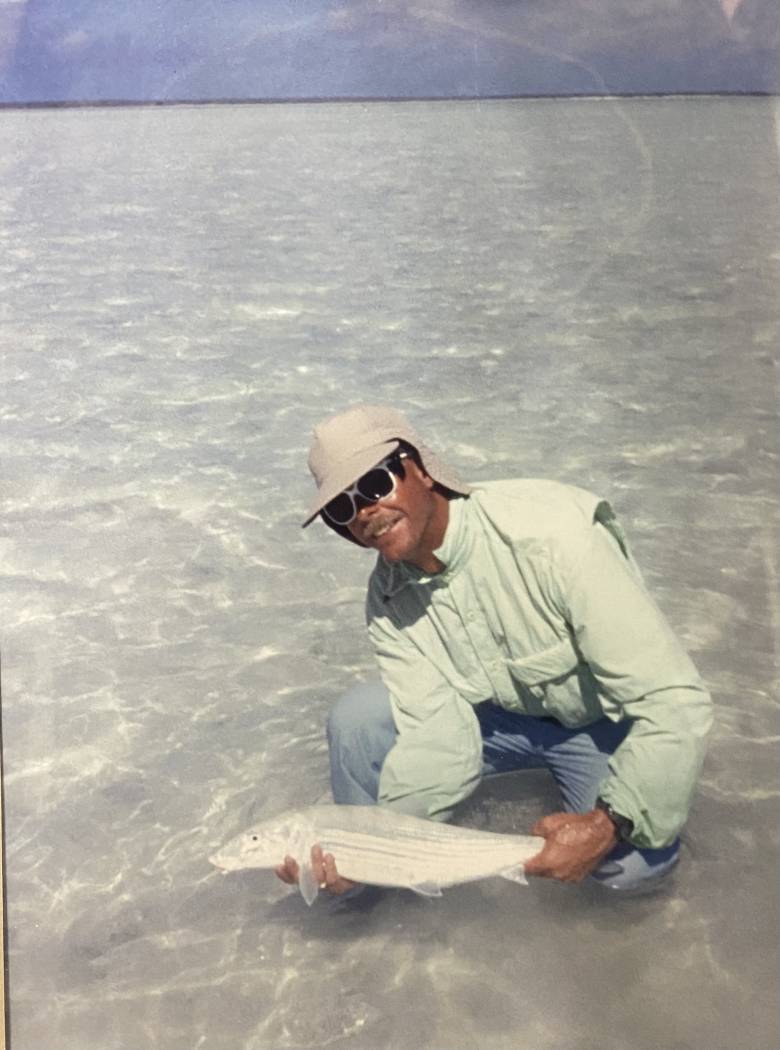 Me with a nice Christmas Island Bonefish.
I was immediately struck by the friendly people, natural beauty, and most of all, the endless untouched flats. All the fishing here is performed on foot, as opposed to fishing from a flats boat. This technique allows anglers to get much closer to the fish, as opposed to standing on the bow of a skiff. On my first day on the water with Bill I had a very hard time seeing any fish at all. I recall catching my first bonefish within one rod's length, because that's how close I needed to be to see the fish. The Latin term for bone fish is Albula Vulpes.  Bill referred to them as "Bulas Invisibilis." I also remember getting several refusals until Bill gave me some clear tippet material, which he told me is a must in salt water.  As the days, weeks and year passed, I found it easier to spot these wily critters, which allowed me to become a much more proficient bonefish angler. In those days, catching over 100 bonefish in a day was not unheard of; my "biggest" day was about 80 bones.
---
One of my fondest memories from Christmas is the day that I was on a boat with John Helfrich and Jo Murray. After a great morning of bone fishing, John was trolling his 12-weight rod with an ocean streamer on 12-pound test just to see what he could find. Forty-five minutes later our guide gaffed an eighty-five-pound Barracuda that to this day is the all-tackle world record Barracuda; 69 inches long and 30 inches at the girth.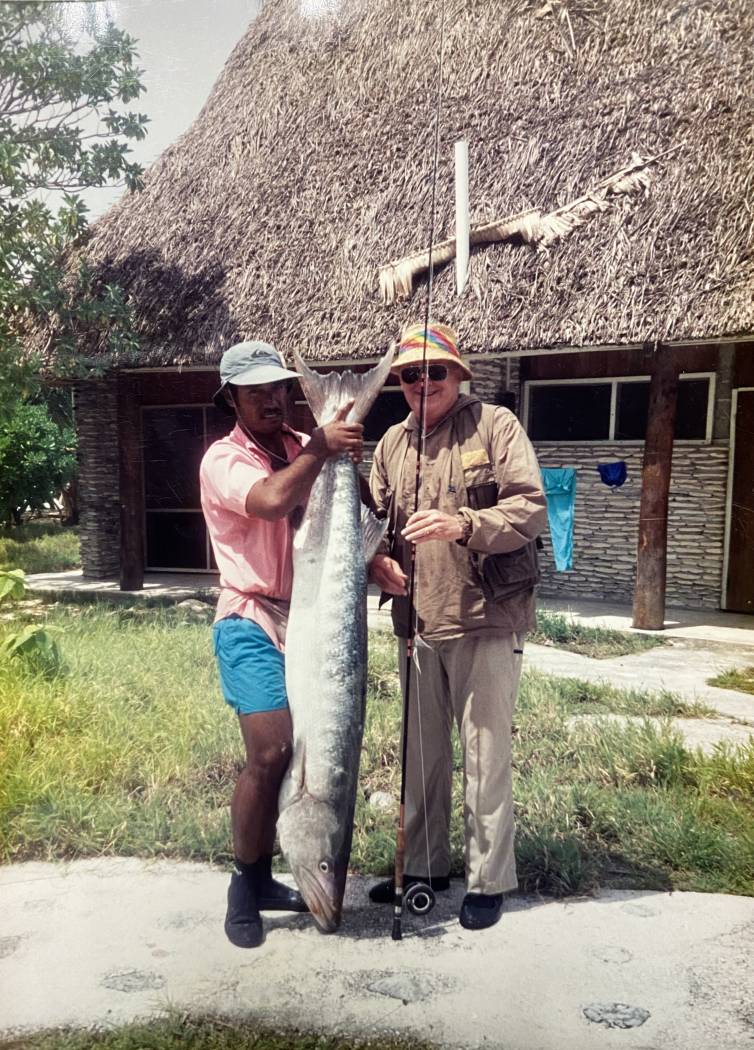 John Helfrich & Guide with all tackle world record Barracuda.
---
I have been lucky enough to make the journey to Christmas Island over 20 times. After a few years, I started hosting trips and bringing friends to see it for themselves. We were lucky enough to have fished many days with fly fishing legend Moana Kofe, who was and still is the most famous Christmas Island guide. Over the years, we became good friends and Moana even came to the states and attended the International Fly-fishing Tackle Dealer Show in Denver. On his visit he floated the Roaring Fork River with Bill Fitzsimmons who opened the Taylor Creek Fly Shop in Basalt in the early 80's. As I recollect, Bill said that Moana saw every fish in the river. Moana even took the father of modern fly fishing – Lefty Kreh on his first walk on Christmas Island. One day, Moana took a group of four of us on what is now famously known as Bill's Trek (named after Bill Fitzsimmons). We covered over 6 miles, caught over 300 Bonefish by Moana's estimate, and only broke only 1 rod! Unfortunately, Moana passed away a few years ago.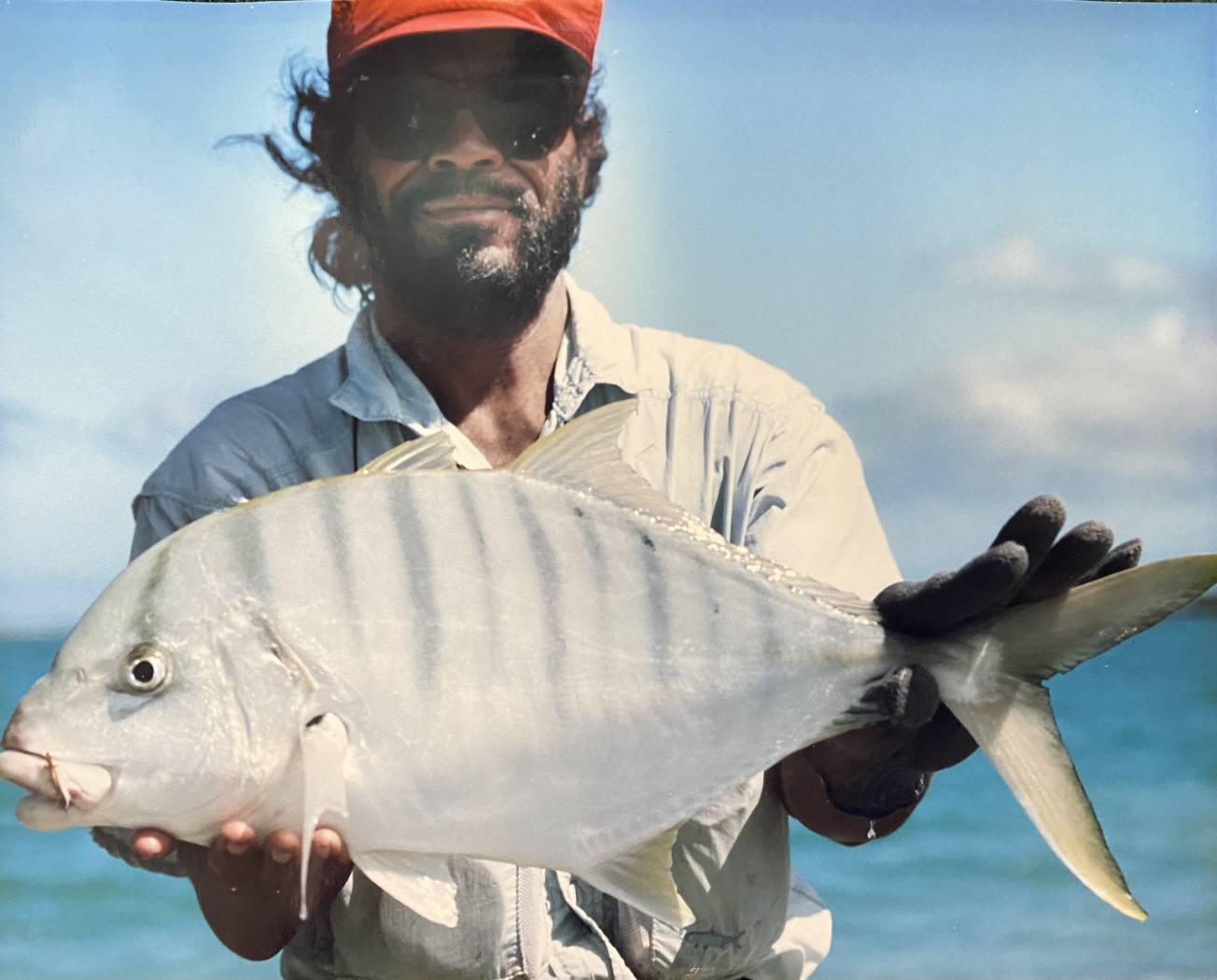 Christmas Island legend Moana Kofe.
Later, Mountain Angler guides Kevin Macreery and Jim Muth also conducted guide training on Christmas Island for many years. They were both great saltwater anglers and were able to offer local up and coming guides with a great perspective from western anglers. I am proud that the knowledge brought from Mountain Angler guides has carved the path for fly fishing in Christmas Island to this day.
---
On the last night at Christmas Island each week, the Captain Cook Lodge, where we stayed, hosts a big Luau party. After our dinner of Roasted Pig and Lobster Tails, they invite a local singing and dancing group. The presentation is a mixture of young and old with big drums and hula style dancers – a great way to celebrate what was always the best week of the year.
Each time I think about Christmas Island, I feel like a kid opening a present on Christmas Day. From the beginning, the locals told me the story of how Captain Cook had first discovered Christmas Island on Christmas Day 1777. Years later, I found a book entitled "The Voyages of Captain Cook." The chapter about Christmas Island tells the story of when Cook first sailed into the harbor; on a small rock island was a vase filled with a stone inscription showing evidence of a French explorer that had stopped by the island the year before. When I showed this to the Island Big Wigs they took my book and burned it! To us, it will remain, forever and always, Christmas Island, discovered on Christmas Day 1777.
---
Here is one of my favorite Jimmy Buffet songs:
CLICK HERE to listen to "Christmas Island" by Jimmy Buffet
Thanks for reading.
Jackson Streit
Mountain Angler
---
To learn more about the Christmas Island or to book a fly-fishing trip to Christmas Island call Mountain Angler at 970-453-4665 and ask for Jackson.