Warm water (especially 65+ degrees Fahrenheit) puts a lot of stress on our fish that can result in fish mortality. For this reason, we always recommend to bring a thermometer and to stop fishing when the water reaches 65 degrees. If you must fish over 65 degrees, use stronger tippet to land fish more quickly, keep the fish in the water, don't take pictures and take time to revive fish.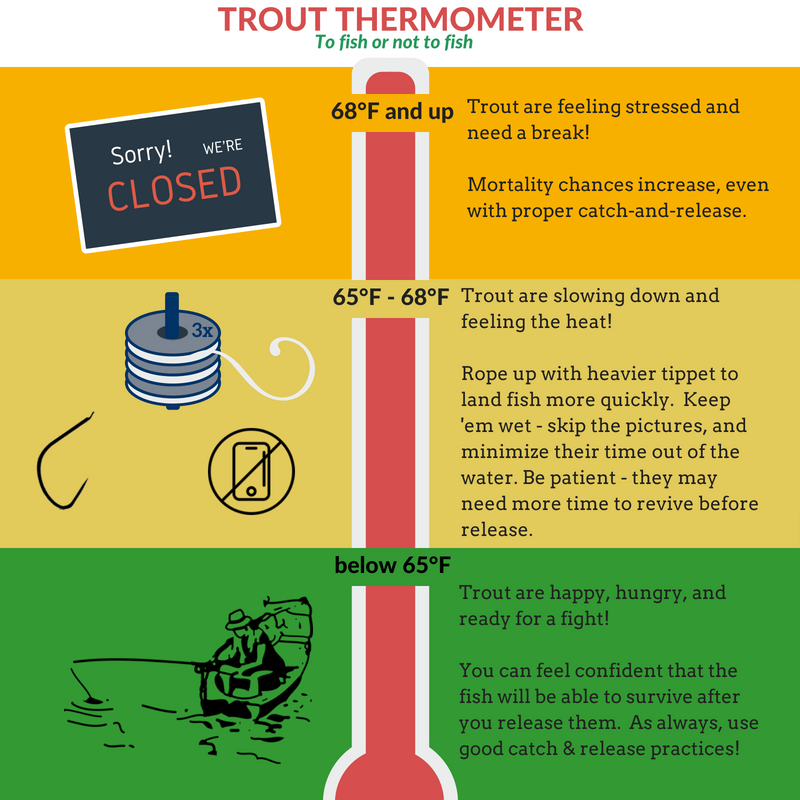 How does this affect your guide trip?
Various rivers have been affected by high water temperatures and we take each situation seriously. For Mountain Angler guide trips, our RIVER FLOAT TRIPS on the Eagle River and the Colorado River have been the most affected by high water temperatures. Mountain Angler is committed to stopping fishing when water temperatures hit 65 degrees. We are also committed to abiding by all CPW voluntary and mandatory closures (see below). For this reason, on some days for RIVER FLOAT TRIPS, we will have to:
1) Change your river float trip to a wade trip on a different river.
2) Get an early start (meet around 5 AM – 6 AM) to get the fishing in early before the water temps hit 65 degrees.
3) Cancel your trip – If you are not open to anything except a float trip please let us know this at the time of your booking or at least 5 days in advance so we can cancel your trip with enough notice to get your guide a difference trip.
CPW Fishing Closures
While we believe every angler should take responsibility to stop fishing when water temperatures reach 65 degrees, Colorado Parks and Wildlife also issues voluntary and mandatory fishing closures to address these issues. Click the link below to see all current closures:
Click this link to see the CPW fishing closures.