For all levels of experience.  On top of being Summit County's oldest fly fishing guide service we are also the only Tenkara fly fishing guide service. Tenkara is a traditional Japanese style of fly fishing that does not use a reel. Learn how to fish Tenkara with experienced guides for Rainbow, Brown, Brook, and Cutthroat trout!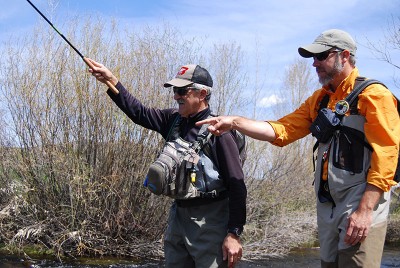 Guided Tenkara is available on these rivers:
Travel times vary from 10-30 minutes on half days and 30 minutes to one hour on full days.
1/2 Day Wade/Walk Tenkara Fly Fishing Price
One Person – $250
Two People – $315
Three People – $400
Learn More
Full Day Wade/Walk Tenkara Fly Fishing Price
One Person – $350
Two People – $425
Three People – $525
Learn More
We also offer Tenkara on our private ranches!  Limited availability.
Additional Tenkara Trip Info:
Breathable waders and premium Zen Fly Fishing Gear tenkara rods are provided for your pleasure.
3 person maximum per guide.
Colorado fishing license required.
Reservations only.
Ages 12 and over.
Trips average 5 hours on half days and depart at 8:00 a.m. & 1:30 p.m. daily.
Trips average 9 hours on full days and depart at 7:30 a.m. daily.
See our equipment list for our suggestions for clothing and personal equipment
All trips are privately booked trips. You will not be added to another trip.