The Arkansas River is Colorado's premier white-water and has long been a favorite for rafters & kayakers. In recent years, the "Ark" has also become a well-known as one of the most healthy and productive trout fisheries in the state!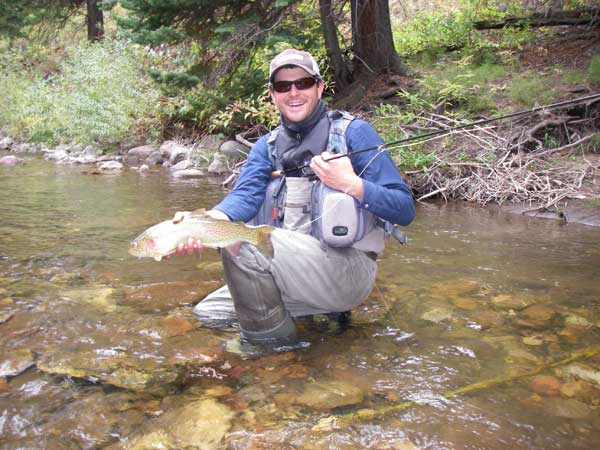 Arkansas River (Upper) – Leadville to Lake Fork
The Arkansas River headwaters, flowing from the top of Freemont Pass to Leadville offers a variety of high-quality fishing, including a "mess o' little Brookies" in the willow flats and beaver ponds above Leadville. Downstream of Leadville, there is a variety of public access including the popular "Hayden Meadows" and "Kobe" parking areas below the Highway 24 bridge. This 6-mile section of river, acquired by the state in 1999, qualifies for "Gold Medal" status by virtue of numbers and average size of fish.
Arkansas River (Lower) – Lake Fork to Canyon City
At the Lake Fork of the Arkansas, the river changes dramatically. Most of the river below its confluence with the Lake Fork is a big, brawling, high-gradient canyon river with large boulders and long rapids. During the early "rafting" season (mid-May – August 15), this generally means working the pockets and edges with deep nymphs. After August 15, the flows are dropped for the "fishing" season, after which healthy trout are willing to come up for hoppers, attractors and ever-present Caddis flies.
During low-water periods in late summer, fall and early spring the whole river can be waded, giving access to great fishing with dry/dropper rigs in the riffles, pools and broken runs. The famous "Mother's Day" caddis hatch which moves upstream from Canon City to above Salida in late April & early May can provide some of the best early season dry-fly fishing in the state.