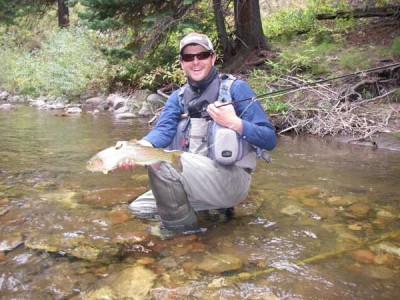 The Arkansas is Colorado's premier white-water river and has long been a favorite of rafters & kayakers; but has never been regarded as a particularly good trout fishery. For the last several years, however, that has been changing. Due in large part to an E.P.A. "SuperFund" project back in the '70s which removed a large part of the heavy metal pollutants from the Leadville mining district, the upper river has become noticeably healthier. The Browns are living longer & growing bigger; planted Rainbows, while apparently not reproducing, are thriving; and a few Brookies and even an occassional Cutthroat can now be found. There has also been a significant improvement in the insect population, with new species of mayflies appearing every few years.
Low water above Buena Vista
It is convinient to get to Buena Vista from our Breckenridge location, although it is also easy access from Copper Mountain and Frisco.
Most of the river below its confluence with Lake Creek is a big, brawling, high-gradient canyon river with large boulders and long rapids which generally means working the pockets and edges with deep nymphs when the river is "up" during the rafting season (mid-May to Aug. 15), but you can also get nice fish to come up for Attractor patterns, 'Hoppers, and the ever-present Caddis flies by fishing the slack-water along the edges. During low-water periods in late summer (as in the above picture) and early Spring the whole river can be waded, giving access to great fishing with dry / dropper rigs in the riffles, pools and broken runs. The famous "Mother's Day" caddis hatch which moves upstream from Canon City to above Salida in late April & early May can provide some of the best early season dry-fly fishing in the state.
Arkansas Headwaters
The headwaters are a short driving distance from Frisco, Vail or Dillon / Silverthorne areas. We frequently guide Vail fly fishing trips on the headwaters of the Arkansas.
The "Arkansas Headwaters" from the Independence Pass Road all the way up to near the Climax Molybdenum mine at the top of Fremont Pass offers the most variety and highest quality fishing. You can catch a "mess o' little Brookies" (and Browns) in the willow flats and beaver ponds above Leadville; be surprised by occassional Browns & 'Bows up to 18″ in the meadows below Malta; or test your skills at getting "respectable-sized" Browns out of every concievable kind of water in the "Hayden Flats" area. This 4-mile section of river was acquired by the state in 1999 and qualifies for "Gold Medal" status by virtue of both the numbers and average size of fish. It is accessible both up- and down-stream from the 'High Lonesome' & 'Kobe' parking areas below the Highway 24 bridge 6 miles South of Leadville.