Yellow Dog Ranch  is a very special property on the Colorado River, located approximately 5 miles downstream of State Bridge and 5 miles upstream of Catamount Recreation Area. Mountain Angler has exclusive put-in and take-out rights at Yellow Dog Ranch which allows us to float two different sections of the Colorado River that no other fly fishing outfitter can access. This allows our clients to avoid the crowds seen in some of the upper stretches (Pumphouse to State Bridge), typically providing for more tranquility and better fishing. This section of pristine water is amongst the finest float fishing in Colorado!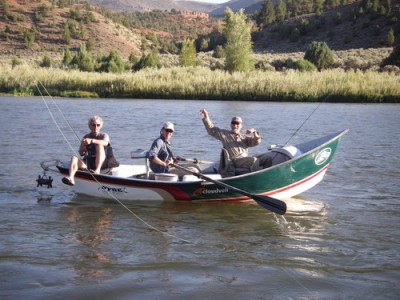 Yellow Dog Ranch put in and take out fees are included in the cost of our River Float Trip. All River Float Trips are allowed to use Yellow Dog Ranch at no additional cost, at their guide's discretion.
Book Your Trip Online
River Float Pricing:
1 Boat
$600 – 1 Angler
$650 – 2 Anglers
2 Boats
$1,250 – 3 Anglers
$1,300 – 4 Anglers
3 Boats
$1,900 – 5 Anglers
$1,950 – 6 Anglers
Also, check out our Overnight Float Trip:
Enjoy two full days of River Float Fishing on the Colorado River and one night of fully serviced camping at the Yellow Dog Ranch!