Upper Blue (North of Breckenridge)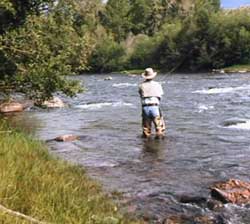 The "Blue" is a medium-size river (100-300 c.f.s. most years) and one of the most scenic Gold Medal fisheries in Colorado. It can be fly fished from the Dillon Reservoir dam downstream to Kremmling, although about 90% of the public access is found between Dillon and Green Mountain Reservoirs. Colorado Highway 9 runs parallel to the river and outside of several National Forest easements access is clearly marked by Division of Wildlife signs and at parking areas. There are about 3 miles of public water below Green Mtn. Res. and a couple more between the Trough Road and the confluence with the Colorado River. Above Lake Dillon you can find about a half-mile of public access on either side of Highway 9 near Tiger Run as well as the "Stairsteps" – some great "beginner water" just North of Breckenridge.
Lower Blue River (below Silverthorne)
The section directly below Dillon Reservoir dam in the town of Silverthorne is the most popular year-round tailwater in the area, especially for larger fish. Big trout live here because of the abundance of Mysis shrimp coming from the reservoir and you can find excellent mid-winter midge fishing in this section. The river freezes over downstream at about the five mile mark starting in mid to late December, but you can also find some open water near the Blue River (National Forest) capmground 7 miles North of Silverthorne where the fish often rise for midges & tiny stoneflies ("snowflies") in late winter. The entire river fishes well from late March through November with good Pale Morning Dun and Greek Drake hatches in June & July and caddis flights all summer long.