The Blue River is a medium-size freestone river and Mountain Angler's "home" water. The headwaters of the Blue flow from the continental divide and tumble down steep gradient along Hoosier Pass towards Breckenridge, flowing to Dillon Reservoir, and eventually downstream to Green Mountain Reservoir and into the Colorado River.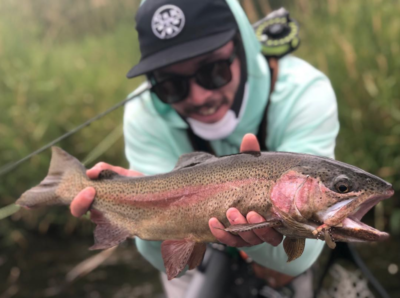 Blue River (Upper) – Above Dillon Reservoir
The first quality public water on the Blue River is known as the "Stairsteps" – some great "beginner water" just north (downstream) of the Town of Breckenridge. At the Highway 9 Bridge near Tiger Road you will find a half-mile of quality public access water on either side of the bridge. Downstream, you can fish inlet of the Blue River to Dillon Reservoir, where fish stack up pre-spawn in the spring and the fall and also to feed, especially in the early season during runoff.
Blue River (Lower) – Below Dillon Reservoir
The Blue River below the Dillon Reservoir dam in the town of Silverthorne is the most popular year-round tailwater in our area. The section directly below the dam produces big trout year-round, as a result of the abundant Mysis shrimp flowing from the reservoir. As the River flows downstream parallel to Colorado Highway 9 to towards Krembling, there is a variety of public water, including National Forest, BLM, and Colorado Parks and Wildlife pull-offs. The entire river fishes well from late March through November with good Pale Morning Dun and Greek Drake hatches in June & July and caddis flights all summer long. In the "off" season can find excellent mid-winter midge and tiny stonefly ("snowflies") fishing directly below the dam. Downstream, the river typically freezes over at about the five-mile mark from the dam starting in mid to late December.
Blue River (Lower) – Below Green Mountain Reservoir