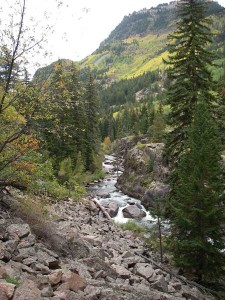 The Eagle has been one of Colorado's least-known treasures for many years. Running parallel to Interstate 70 from Gore Creek near Minturn to its confluence with the Colorado at Dotsero, and easily accessible from old Highway 6 it is probably seen by more people than any other similar sized river in the state. Unfortunately, as its reputation as a trout fishery has grown, the commercial development of the valley has grown even faster – to the point that a once beautiful stream flowing through sheep pastures is now hemmed-in by a 10-mile long strip-city of condos and million-dollar vacation homes. It seems that every year another stretch of fine trout water is closed-off by developers.
Where you can find access to the water on one of the pieces of BLM land sandwiched between all the private property, you'll generally be fishing fast runs and pocket-water. The Eagle is one of the most difficult rivers in the state to wade, with strong currents, large slick rocks, and invisible "teacups"; so studded wading boots and/or wading staffs are strongly encouraged for safety. The fishing can be just as challenging as the wading due to complicated currents which make drag-free drifts with dry flies difficult, and strong-flowing deeper-than-you-think pools and slots between the big rocks requiring additional weight to get your nymphs all the way down to the fish's level.
If you can overcome all these problems, you may be rewarded with some of the strongest, most colorful Browns and Rainbows you've ever seen. There doesn't seem to be a particularly large trout population, but the quality of the fish more than makes up for any lack of quantity.