Bar Star Ranch is the ultimate still-water fly fishing destination and is exclusive for the Mountain Angler guide service. Located near Como, Colorado, the Bar Star Ranch consists of the 40-Acre Flying Fish Lake, where you have the chance to catch 20″-28″ rainbows.  While once stocked, these fish are now large, healthy and lively, creating a thrilling experience with every catch. Bar Star Ranch can accommodate wade or float fishing (ask about this during booking) and is an ideal property for anglers of all experience levels. Mountain Angler allows a maximum of 8 anglers per day on the lake ensuring the high quality of fishing our clients have come to expect.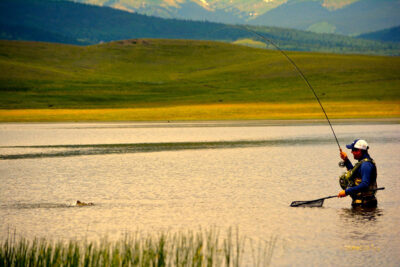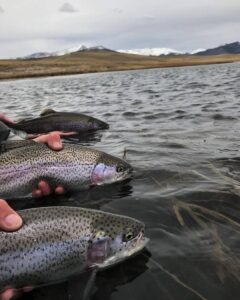 Bar Star Rod Fees
High Season
June 16 – September 30
$130 – 1 Angler
$260 – 2 Anglers
$390 – 3 Anglers
Low Season
October 1 – June 15
$80 – 1 Angler
$160 – 2 Anglers
$240 – 3 Anglers
Call Us For Availability & Booking
May be booked with a Full Day Wade Trip only.
Private Water Rod Fees are additional fees, on top of Guide Fees.
Private water access requires Mountain Angler guide. No exceptions.