Welcome to springtime in the Rockies, everyone! Freeze, thaw, snow, sunshine, golf, fish, bike, hike, repeat. If you play the weather correctly you can have it all!
Since our last broadcast we have received copious amounts of snow and our snowpack has inched closer to average.  Here is the latest snowpack for Colorado and our larger river basins:
Statewide: 90%
Colorado River Basin: 88%
Yampa/White River Basin: 90%
South Platte Basin: 92%
Gunnison Basin: 86%
Arkansas Basin: 96%
San Juan Basin: 86 %
Upper Rio Grande Basin: 105 %
Of course, this is great news. I also see that we have more snow coming next week. As long as we get back into some normal rainy weather patterns for the summer, we should be in store for a great angling season. I always say that average snowpack is the best.
Right now, most of the waters are fishing well, including the Blue, Eagle, Ark, Colorado and S. Platte. This time of year, keeping an eye on weather and stream flows can payoff. With a few warm days on most of the bigger rivers, you will see them dirty up, but they can come back down just as quickly which is a great time to fish them.. In South Park, Spinney Mountain Reservoir has opened, and the fishing should be quite good along with nearby Antero Reservoir. The streams are still quite low but that will change as we get into May. May is a great month to fish the Middle Fork and South Fork of the Platte.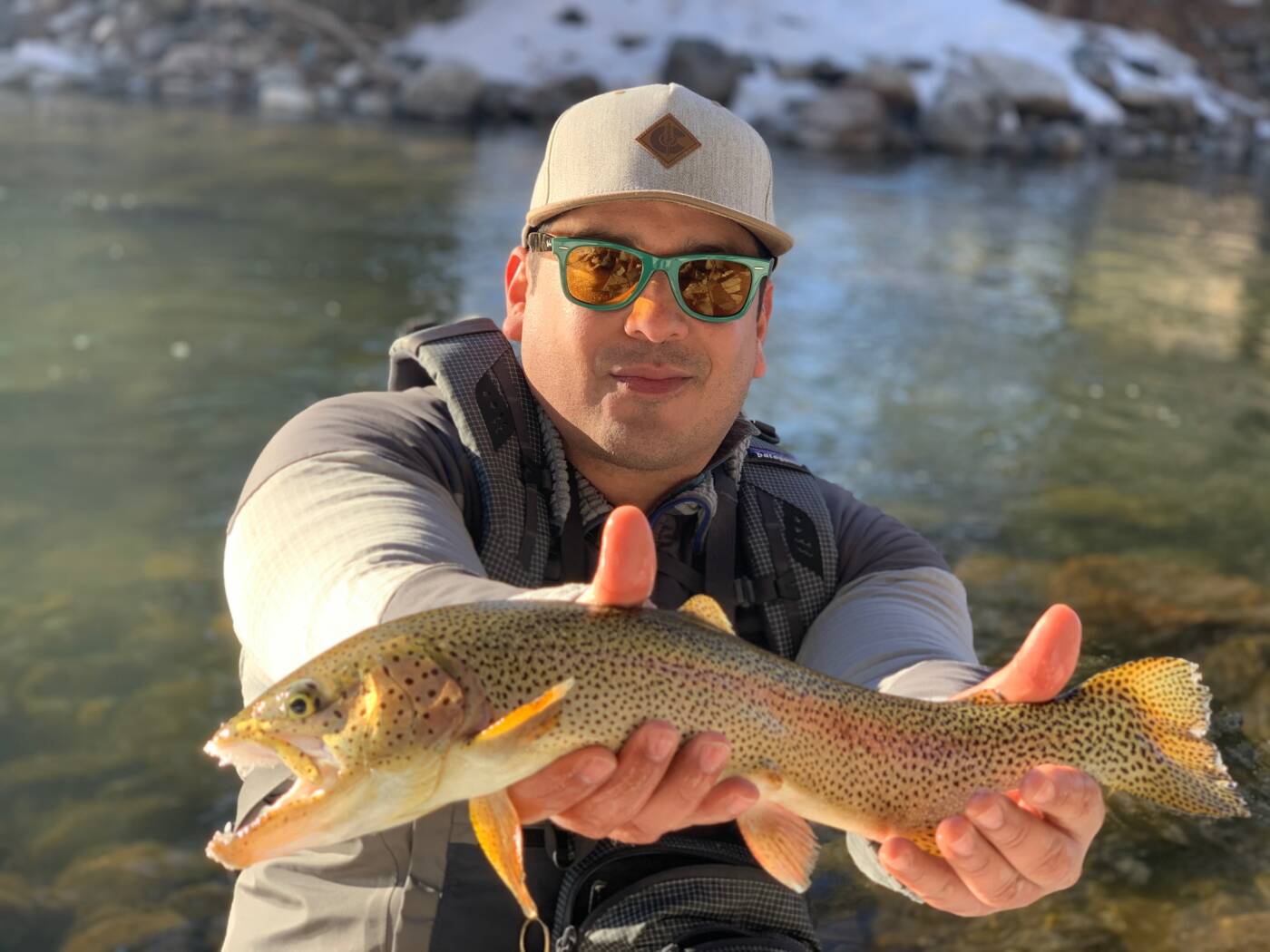 Our good friend Manny with a nice rainbow on the Blue River
The Big Stonefly Hatch on the Colorado should begin by the last week of May and move upriver each day through the first few weeks of June. Look for a great caddis hatch on the Colorado, Arkansas and Eagle Rivers as well in May and into June.
Looking further forward, expect the runoff to peak on the major drainages around mid-June. The waters nearby such as the Ark, Colorado and Eagle should be in great form around June 25 and maybe even sooner. Some of the best fishing of the year is always right after the main runoff. The fish are quite hungry from exerting so much energy during high water. This a great time to do some float fishing as well.
On another note, I would like to thank all of our great customers who have supported us throughout the last calendar year. Thanks for respecting our mask policy in the store. We will continue to require all our guide service clients to drive their own vehicles as well throughout this summer unless covid conditions drastically gets better. Last summer we did not have one guide knowingly get sick using this policy.
Finally, I would like to thank all the guides and store employees who helped us make it through these tough times. We have had to figure out many new ways to get through these times and without everyone's support, ingenuity and understanding we would not be here today.
I wish everyone a great spring of angling. We will be back with more info and stories next month.
Tight Lines – Jackson Streit, Owner