Mountain Angler Fly Shop located at 311. S. Main Street in Breckenridge is one of the area's finest outdoor clothing stores and fly shops.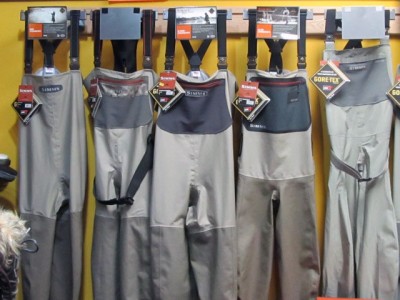 Our fly shop is fully stocked and our inventory includes a wide variety of rods, reels, waders, wading shoes, vests, chest packs, rain gear, luggage and of course all the fly patterns and accessories you will need for a successful day on any Western river.  Additionally we provide fishing and hunting license services, carry books/maps, and proudly boast the largest fly tying material section in Central Colorado.
So, whether you're a novice angler or a seasoned veteran we have all the fly fishing gear you'll ever need.  It doesn't matter to our pro staff either if you're in the market for your first fly rod and reel or if you're ready to pull the trigger on that Sage-x rod that you've been wanting.  We greet all of our customers with enthusiasm and genuinely want YOU to be outfitted with the right gear!
Fly Rods:  Sage, Scott, Temple Fork
Fly Reels:  Sage, Ross, Galvan, Abel, Nautilus, Lamson, Waterworks, Redington
Fly Tying Department: Tiemco, Gamakatsu, Wapsi, Hareline, Whiting Farms
Fly fishing Accessories: Angler's Accessories, Rio, Doctor Slick, Loon, Fishpond, Boss Tin, Rising, SA, Montana Fly Company, C& F fly boxes,
Fly Lines/leaders/tippet: Rio, Scientific Anglers
Nets: Brodin, Fishpond, Nomad
Flies: Solitude, Rainey's, Montana Fly Company, Dreamcast, Fulling Mills
Outdoor Clothing/Footwear: Patagonia, Columbia Sportswear, Simms, Under Armour, Sorel
Packs, luggage, vests: Fishpond, Sage, Patagonia, Columbia, Simms
Wading Staffs: Simms, Fishpond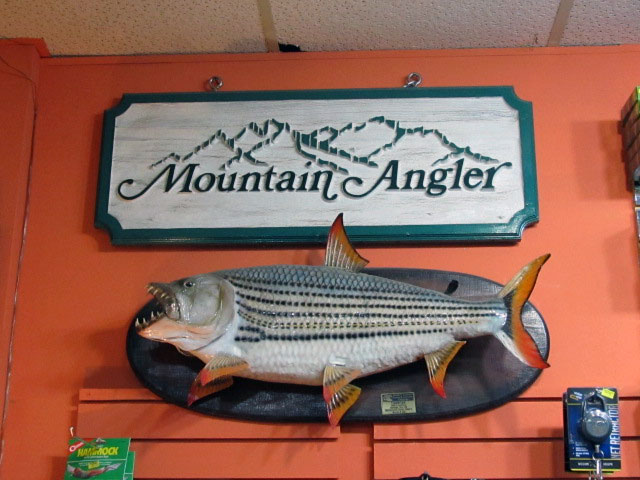 Tigerfish on fly caught by Jackson Streit. Zimbabwe, '95.