The Mountain Angler also offers quality float fly fishing trips from Steamboat Springs on the Colorado River.
Our guide service has been floating this area of the Colorado River since 1990.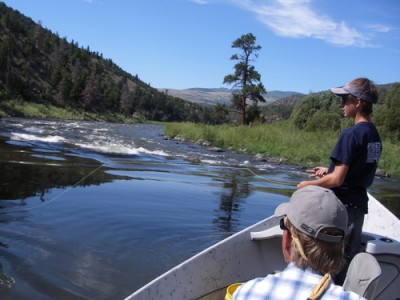 The Mountain Angler has secured a private put-in and take-out near McCoy Colorado. Anglers from Steamboat Springs can meet us at our private put-in at the Yellow Dog Ranch located right on the river. The scenic drive from Steamboat on Colorado Highway 131 takes a little over an hour to our meeting point. The Yellow dog Ranch is a secluded put-in and take-out location which allows our guides to access the river with virtually no other pressure on the river during your float day. It's like having private water!
The scenic float passes through both private and public water sections. Techniques for angling include dry fly fishing as well as dry/dropper and streamer fishing. Seasonal hatches consist of Stonefly, Caddis, PMD, Red Quill, October Caddis, Baetis, Trico and Sulphurs. Hopper fishing is great during the summer months. All gear and lunch are provided. The float fishing season here is from mid April through October. For more information please contact us. Also, please click to our float fishing section for additional information and rates.