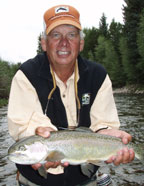 Dave has been fly fishing for nearly 50 years. He started fly fishing for trout with his father at age eight. For the past 20 years he and his wife Jeanne (also an accomplished flyfisher) have spent their summers chasing trout in the Breckenridge area.
During the off season Dave and Jeanne reside near Iowa City, IA where Dave teaches or as he puts it, taints and corrupts the minds of young aspiring marketers at the University of Iowa. Dave's ability to take the complex and make it simple to understand and his quick wit have made him a popular teacher and have won him numerous awards for teaching excellence at the university.
While back in Iowa for the school year, his rod does not collect dust in a storage room. He frequently escapes the classroom to fish the streams of the Midwest's famous Driftless area located in NE Iowa, SW Wisconsin and SE Minnesota's.
Dave has an appreciation for the outdoors, a love of fly fishing and a passion for teaching.